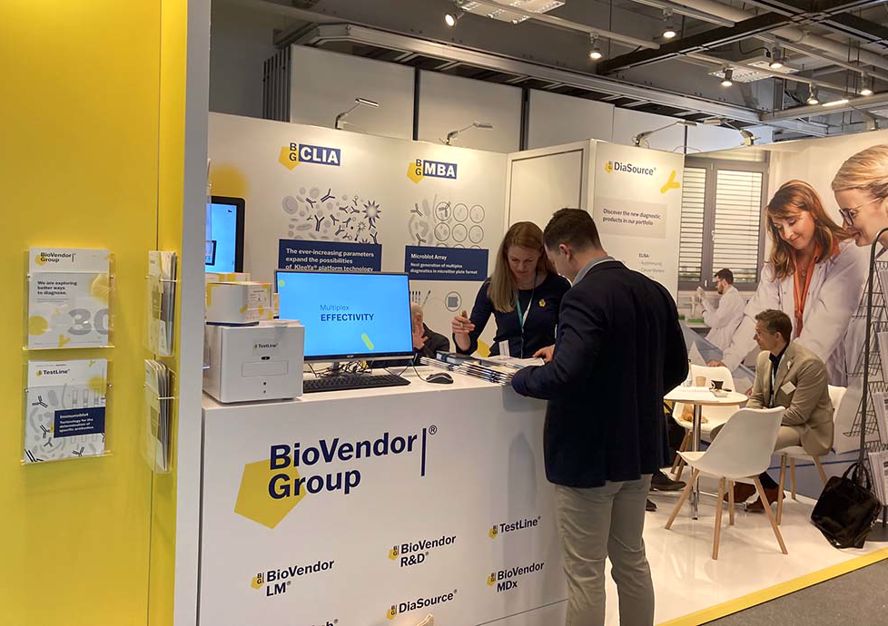 ECCMID
It may be an incomprehensible acronym to some, but to many, these six letters hide one of the biggest events in the fields of clinical microbiology and infectious diseases. The European Congress, under the auspices of the Organising Committee of ESCMID (European Society for Clinical Microbiology and Infectious Diseases), marked a milestone this year: it was 40 years ago that a group of ten friends decided to bring together leading scientists to improve our understanding of pathogens and infections. The first congress was then held in Bologna, Italy, and over time it gained considerable popularity among clinical microbiologists and infectious medicine specialists. This fact is clearly confirmed by the annual statistics on the number of visitors, exhibiting companies, accepted abstracts and lectures.
Would you like a little hygge style? Then up to Copenhagen!
For this year's conference, the organiser chose the Danish capital Copenhagen. Nearly 15,000 visitors from 150 countries had to pack a warmer jacket and umbrella than in sunny Lisbon, where the event was held last year. In return, the Nordic metropolis prepared for them a series of unforgettable experiences in addition to a packed professional programme. Perhaps everyone managed to soak up a bit of the proverbial hygge style or at least take a stroll along Denmark's most famous promenade along the Nyhavn waterfront and taste the Danish national dish Smørrebrød, which is nothing more than "dark rye bread with butter".
Lost on the exhibition area of 7530 m2? Not at all!
The Bella Centre Copenhagen exhibition and conference facilities hosted a number of lectures in the fields of clinical microbiology, infectious diseases, infection control and prevention and public health. The adjacent poster session presented the latest research findings and clinical cases in more than 6,000 abstracts and, together with the extensive presentation of 246 companies on an exhibition area of 7,530 m2, elevated the event to one of the most comprehensive and influential infections congresses ever.
We also carved out a slice of the exhibition space and our colleagues from TestLine and DiaSource showcased the best immunology projects from the BioVendor Group on 15 m2. And how did they do it? Judge for yourself! Let's go back in time for a moment and take you to the heart of the action with a short video.
Lecture, lecture and lecture again
It must have been a real challenge for the organisers to fit 150 different sessions in the form of expert lectures, scientific symposia, educational workshops and meet-to-expert sessions into just four days. It is therefore not surprising that the Programme Committee starts preparing the scientific programme immediately after the end of the previous year. The aim is to create a comprehensive and timely programme covering the entire range of topics with quality speakers, well-known experts, experienced and young scientists.
News and challenges in the world of microbiology
We asked Zuzana Petříčková, Product Specialist at TestLine, who couldn't miss the packed professional conference, what topics are currently driving the "microbiology world": "Artificial intelligence is penetrating all areas, and its possible use in microbiology was the topic of Adrian Egli's lecture from Switzerland. Egli reflected on the role of AI towards personalised and effective treatment. According to him, ChatGPT can provide us with valuable information about microbial species, offer explanations of complex concepts, generate hypotheses and support development."
However, the scientific programme was not only focused on artificial intelligence. Another hot topic was antibiotic resistance, which is a significant threat to global public health. Researchers and healthcare professionals are working to develop new strategies to tackle this problem.
"A surprising topic for me was definitely the role of archaea in human health," says Zuzana. "The new insights indicate that the archaea in the human microbiome (archaeome) are diverse and use unique metabolic pathways to produce a variety of metabolites, that contribute to host-microbiome interaction, potentially influencing human health and disease," she adds. "I was also intrigued by the lectures focused on tropical diseases. They mainly affect low-income communities in tropical and subtropical regions of the world and receive inadequate attention or resources. Researchers presented the latest findings on the epidemiology, pathogenesis and treatment of these diseases, as well as strategies for controlling their spread."
Naturally, Zuzana's attention was also directed to tick-borne diseases. According to recent statistics, there is an increase in the incidence and spread of these diseases in other parts of the world, and climate change, rising temperatures and humidity seem to play a major role.
Next year we will meet in Barcelona
Every year ECCMID creates a platform for discussion, networking, developing and sharing knowledge, presenting new technologies and practical experiences to a wider audience. For many, it becomes an inspiration for further work, an embodiment of the desire to improve the world we live in. Barcelona has been chosen as the venue for the next edition. But let's stay in Copenhagen for a while and say goodbye with a quote from its most famous inhabitant, Hans Christian Andersen: "Life itself is the most wonderful fairy tale".