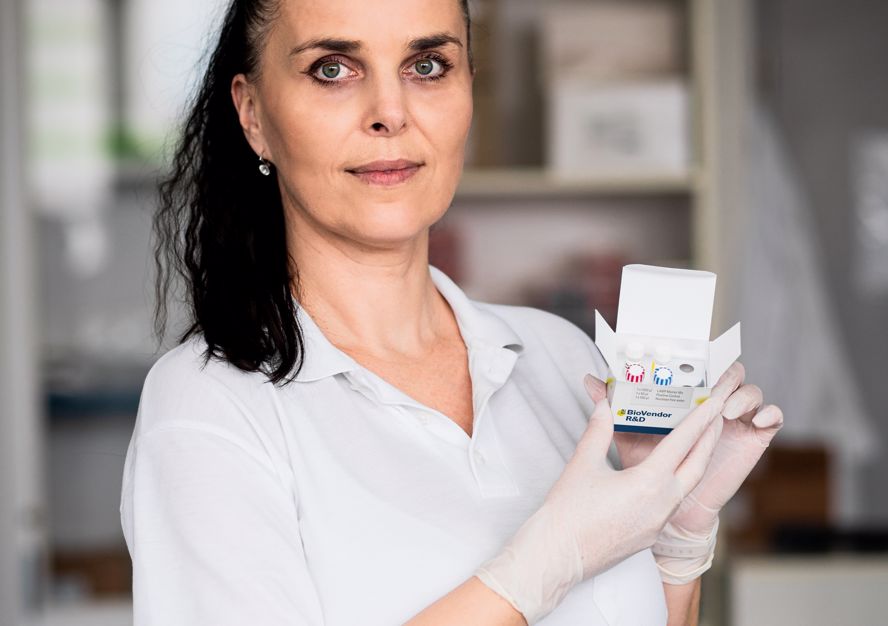 Fast as an antigen, accurate as a PCR
"LAMP tests compete with antigen tests at their speed. On the contrary, this technology is, with its accuracy, very close to the currently most reliable PCR tests – both methods work with direct detection of the virus in the patient's body," explains Eva Pindurová, Director of the Molecular Division of the BioVendor Group.
However, unlike PCR, LAMP tests do not require nucleic acid (RNA) isolation or a special amplification device (thermocycler), yet they retain greater sensitivity than currently most widely used antigen tests. "For medical facilities which will use LAMP tests, financial savings in removing the isolation step will certainly be a significant benefit. This will also allow laboratories to plan their capacity easier and increase the throughput of laboratory samples," adds Pindurová.
The simplicity of performing the test will allow the inclusion of this test into the portfolio of laboratories that do not have special equipment for molecular diagnostics. For large laboratories, LAMP tests could save time and money. And last but not least, it will enable fast, high-quality and affordable testing of those interested even out of the central laboratory, e.g. at mobile stations.
Simplicity - the key to area-wide testing success
LAMP tests are designed to be comfortably performed directly at the place of sampling. "In layman's terms, LAMP tests need just a certain temperature. Everything takes place in a single test-tube – thanks to this it is possible to analyze samples in common laboratories or mobile sampling points," adds Pindurová.
A device that everyone can afford
LAMP tests will soon be complemented by a portable device, which even a small company can afford to purchase. "Our detector will cost several tens of thousands of crowns. Working with it couldn't be easier – just insert the sample and wait for the test to complete. The green light means a negative result, the red one a positive result," the Director of the Molecular Division of the BioVendor Group describes the possible future of area-wide testing.
The chance of a return to the normal
It is the combination of affordability, speed and reliability that predetermines LAMP tests to be used wherever antigen tests with a high percentage of false negative results are still used.
The new diagnostic method is currently undergoing certification and is currently available for scientific purposes (RUO), it will be possible to apply it also for clinical use soon (CE IVD) for example, as a part of area-wide testing of larger companies or during mass events.