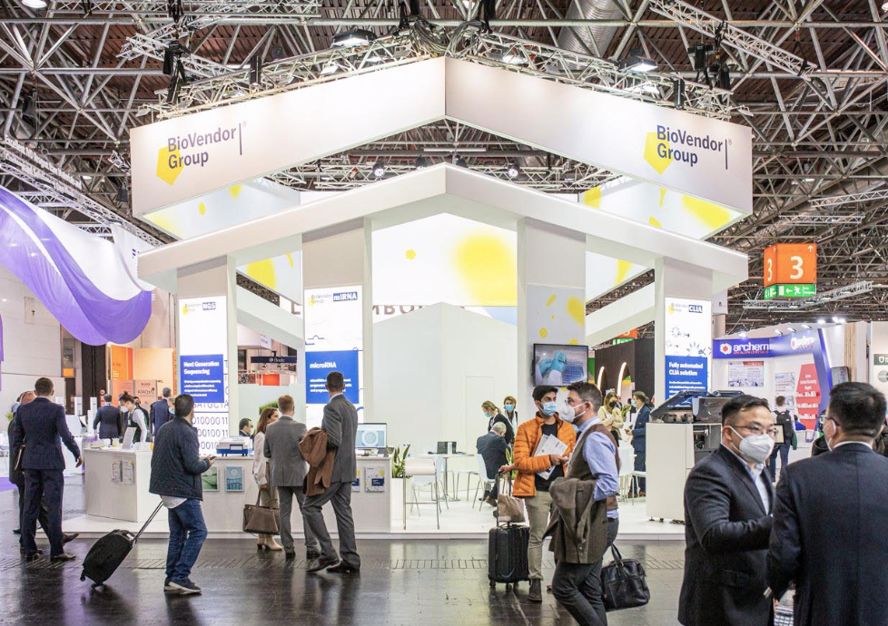 After a forced one-year break, the gates of the Düsseldorf exhibition center reopened to visitors from the medical community on 15 November. One of the world's largest trade fairs for medicine and medical technology has been creating a platform for more than 40 years for personal sharing of the latest trends and news in the field and attracts the attention of experts from around the world. This year, 40 000 visitors from 150 countries, together with 3 500 exhibitors, did not miss this opportunity. Even tightened government measures or strict hygiene regulations could not stop BioVendor Group members from welcoming their business partners, customers and distributors to a joint booth and, for the first time in history, sharing the exhibition area under the group's unified brand.
The basic concept of our visual presentation was the introduction of five key projects CLIA, NGS, Microblot Array, microRNA and LAMP, created in a joint synergy of BioVendor Group companies.
"It was clear how far Biovendor Group had moved since the last year of the Medica fair. For example, we started talking about automation in immunochemistry and about NGS two years ago. This year, both solutions are already used by customers," says Michal Kostka, CEO of BioVendor Group.
Good location of our booth in the busy part of pavilion 3 attracted the attention of passing visitors, so it is no wonder that our booth was really busy.
Although the overall attendance and scope of this year's fair were marked by the unfavorable development of the epidemiological situation and did not reach the parameters of previous years, colleagues evaluated our participation very positively:
"Resulting attendance was definitely a pleasant surprise for me. Even bigger and positive surprise, which we really did not expect, were visitors from all over the world. Outside Europe, we have welcomed a number of partners from South America and the Middle East. These meetings helped not only to get closer to our business partners, but also to strengthen friendly relationships with them as well as significantly streamline individual business negotiations. We were also pleasantly surprised by the great interest in our new products and projects," describes his impressions from the fair Michal Šteffl, business development manager for IVD.
Zuzana Nekorancová, product manager for CLIA, had a similar opinion: "In addition to bringing us a lot of new contacts, partners and opportunities, Medica has given us the opportunity to meet face to face with colleagues who work in different parts of the world. There was a lot of interest in the exhibited KleeYa® analyzer, we constantly presented our CLIA solution – how to insert CLIA kits into the analyzer or how the measurement itself proceeds."
Vladimír Kolář, scientific and product manager for CLIA, also evaluates the participation in the fair as successful. According to him, the concentration of companies in the field at the fair is an opportunity to get an idea of current trends and competition, as well as the chance to find partners for cooperation, suppliers of products for distribution or components for development and production.
Their words only confirm what most of us have known for a long time. No modern technology cannot replace the power of a face to face meeting. We are glad that we were able to take this opportunity at such a difficult time and meet and greet many of you in person.
Thank you to everyone who participated in the preparation and course of the fair.
Hopefully see you next year!