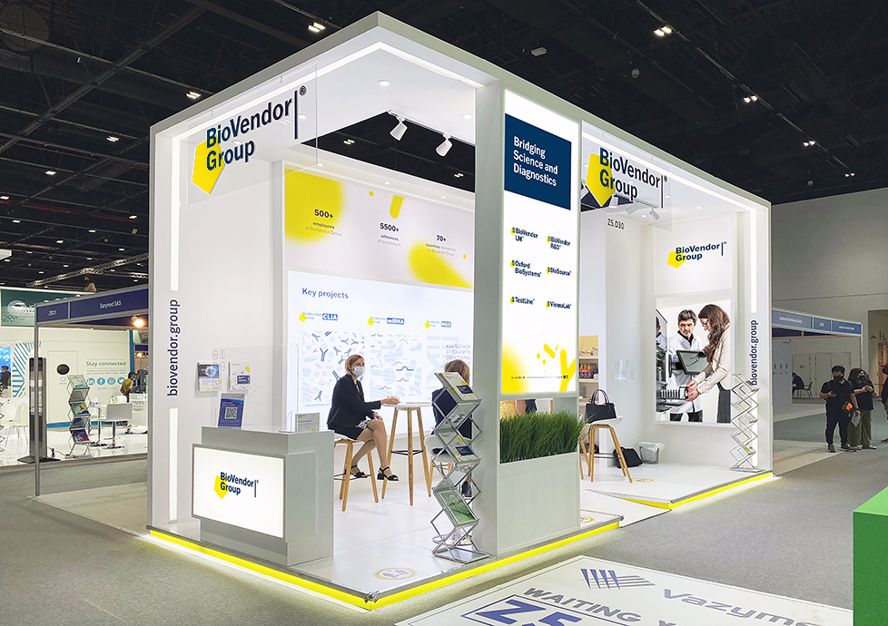 After a long pause caused by the coronavirus pandemic, this was the first large personal meeting of suppliers, distributors and producers with focus on laboratory diagnostic products. Despite anti-epidemic measures, there was great interest in the fair.
This year's show was really special for the BioVendor Group, especially thanks to the new branding that we officially introduced here.
Great location in the exhibition hall got us to the very center of the entire show. And according to the participating colleagues, our stand was evaluated by visitors as one of the best!
Focused on key product
The aim was to introduce our key products to visitors and potential business partners and provide them with more detailed information about each product. We focused mainly on the brand new CLIA product, as well as NGS, miRNA and MBA. Individual key products became the main decorative elements of the entire booth and immediately attracted the eyes of passing visitors.
The show was very successful and the products presented by us enjoyed great interest among the participants.
A significant number of exhibitors also focused on the presentation of innovations in the field of molecular biology, especially on the detection of the Covid-19 virus. We were one of them, with our NGS method.
How do the participating colleagues evaluate the fair?
"Everyone was very happy to see each other and were extremely willing to discuss products and news. There were fewer exhibitors and visitors than usual, due to measures in different countries, but perhaps that is why the atmosphere was much more pleasant and personal," says Pavla Karešová, product manager of clinical biochemistry and hematology.
"Our BioVendor Group booth is still in the spotlight. It's full of life here!", evaluated the show directly on the spot key account manager Eva Svobodová.
Michal Šteffl, who is a business development manager for IVD was pleasantly surprised by the fact that, despite all the measures, the show was visited by more distributors and visitors than he expected under the given conditions.
"The show was quite lively, but marked by Covid 19, many distributors did not attend. For the first two days our booth was very busy. Surprisingly, not everyone was clearly focused on diagnostics, there were also a few visitors who were looking for something new and interesting – I believe our miRNA products were right for them," says Jiří Brzobohatý, BioVendor RnD business development manager.
We look forward to another personal meeting!
Exhibitions and other professional meetings are very important to us. They allow us to personally present the results of our work and also strengthen relationships with other experts.
We thank all colleagues who participated in the preparation, organization and especially the perfect representation of the BioVendor Group. We would also like to thank all the visitors of the show who came to visit us.